Author – Ilan Tal,Business Development Manager – Global Ecosystem & Channel Readiness
Establishing the global development hubs
Since its establishment in January 2003, the SAP Business One development team has grown from a handful of C++ developers into a collective of hundreds of colleagues with deep knowledge of modern programing languages and cutting-edge technologies. The team is quite diversified in terms of gender, nationality and age and is located mainly in China, but also in Slovakia, Germany and Israel.
During the last 15 years the team went through 3 major product evolution phases:
•  2003 – 2007: Three regional versions to accelerate geographic expansion (6.x & 7.x releases)
•  2008 – 2010: Code-line unification, product quality initiatives and core functions (8.8x releases)
•  2011 – present: Front runner in innovations and digitization: SAP HANA, Mobile apps, cloud and more (9.x releases)
Three regional versions to accelerate geographic expansion (6.x & 7.x releases)
The main efforts following SAP's acquisition of TopManage were to transfer the knowledge from the development center in Israel to the new development centers in China, Slovakia and Germany.
One key element was to divide the world into three clusters (A/B/C) to create global product coverage and support the various regions in a faster and more nimble way. The A-Cluster was mainly focused on Europe/North America, supported by the development center in Israel. The B-Cluster mainly focused on Asia/South-America, supported by the development center in China. And the C-Cluster focused on East-European countries and was supported by the development center in Bratislava, Slovakia.
Closing the gaps
Andreas Wolfinger Vice President | SAP Business One | Head of Product-/Solution Management recalls "I received the first live demo a few weeks after the CeBIT exhibition and was impressed – or better to say, I fell in love with the new inspiration/ease of use of the product. The drag & relate functionality was a killer innovation for our Small Midsize Business market competition, as well as the impressive golden arrow and the new easy to understand user interface. My immediate thought was this could be a blockbuster and could be established as a new hero into the SMB market.
"After we opened the hub, we recognized that a lot of work must be done before SAP Business One would move into a world-leading product for our SMB target market. The very early release didn't provide a sophisticated framework for localizations, languages and functionality."
After the first market success with new customers worldwide, SAP Business One became slowly but surely a global solution. Huge steps were made in business coverage enabling the product to move to the next step. Nevertheless we quickly realized that there are gaps that might prevent the product to move on both global and local levels, some gaps were best practices and functionalities on a global level , some were legal issues that prevented local sales teams to sell the product on the country market and other were functionalities that our competitors had in their basic product and we did not have in SAP Business One.
To overcome this challenge, a task-force was founded to fully concentrate on the clean-out, corrections and building the fundaments. With the aim of being prepared for the future growth, the so called "251-critical issues" list became our execution plan to prepare the product for the next growth wave. After few months of collecting the information and prioritizing the issues, the team defined a plan when and how to close the gaps and let the product move to the next level.
Opening the Bratislava development center
The research & development center for SAP Business One in Bratislava, Slovakia opened in 2003 with just a handful of employees. The goal was to localize SAP Business One for East European countries. There was a need to build the expertise in design and development of ERP applications, start the cooperation with remote locations in Israel and China while still hiring new colleagues with the required technical and business skills. Also, it was clear from the beginning that we will provide a customer support for Eastern Europe.
Initially, The Slovakia office had the following tasks that all seemed very complex and sometimes overwhelming:
Design and develop localization and legal features for Poland. For example, the Correction Invoice feature that was later used for all other countries around the world;
Extend and implement new inventory valuation methods;
Deliver "Euro conversion tool" for EU countries which switched their currency to euro.
Step 1, 2, 3 – Learn the basics (How to sell a pin for 0.0001 EUR)
Jan Ruzarovky , Currently: Managing director, SAP Labs Slovakia recalls: "One of the interesting features was the "Small item valuation" feature. The problem statement was simple – if a package of 100,000 pins costs 1 EUR, how much does 1 pin cost? Originally, SAP Business One did not officially support stock values below 0.01 precision. Thus, the price of 0.0001 EUR would be rounded down to 0 EUR and the stock value would be incorrect. To develop this feature, we needed to learn about inventory management, inventory valuation methods, reporting, etc. Looking back, now we are delivering hundreds of much more complex features which have a global reach. But that could only come later.
Once small "SAP Business One R&D center" in Bratislava was upgraded to SAP Labs Slovakia in 2016 and became a part of the worldwide SAP Labs Network. We have started as a small team working on an originally short term project, worked passionately and built a highly professional development team, solution management team and a customer support team. "
2008 – 2010: Code-line unification, product quality initiatives and core functions (8.8x releases)
Before 2007, SAP Business One had 3 different regional versions in order to maximize the speed for international expansion. There was a wide range of differences among localizations for legal compliance and local best practices. The fast-paced globalization expansion led to an explosion of product complexity, requirements and design. To overcome this challenge, a "major surgery" was need, which is not only painful, but also extremely risky. The solution was to unify all code-lines of regional versions and conduct significant code refactoring to build more sophisticated infrastructure and support future sustainable growth.
Tracing back to late 2007 when SAP Business One 8.8 was kicked off, Ye Zhang – till lately Head of SAP Business One global development reminisces. "There were huge doubts and concerns. The initiative was thought to be too risky to our customer base and that it was basically mission impossible. Many colleagues considered 8.8 code refactoring as a suicide mission. it was a thorough redesign or refactoring of many objects in the core. However, rising to and tackling those challenges, through bold but thoughtful planning and good execution, was imperative and the only path to assure the product's prosperity in the future.
"After many discussions, the team finally made the call to rewrite some parts of the product, mainly in the stock module, from scratch. The new creative design provided the great flexibility that enabled easy adaptation to future changes in an elegant manner."
Led by Xufei Sun – Then the merger project manager, the China development team accomplished the merge of two regional versions (cluster A and cluster B) within 3 months. The outcome of the unified code-line provided a stronger codebase, more modular and generic design for business logic, which brought immediate value to all countries.
And if you ask – why was the first 8.x version named 8.8 ? The reason is that the number eight is regarded as a lucky number in Chinese culture. Double eight was used with the expectation of bringing a double portion of luck to our customers and this new release.
Globally Distributed, Closely Collaborative
Collaboration across different country sites made up a collective strength and diversity with greater influence. Some colleagues had frequent international travels in those days. Xufei Sun recalls: "In the end of 2006, I needed an Israeli visa for business trip, but there was an earthquake in Taiwan and communication fibre cables under the sea were broken. Israeli consulates in Shanghai could not access the visa system via internet. There was no way to issue a standard visa (automatic printed from internet) so they signed it manually, and give me another "official document" in "Chinese, English and Hebrew."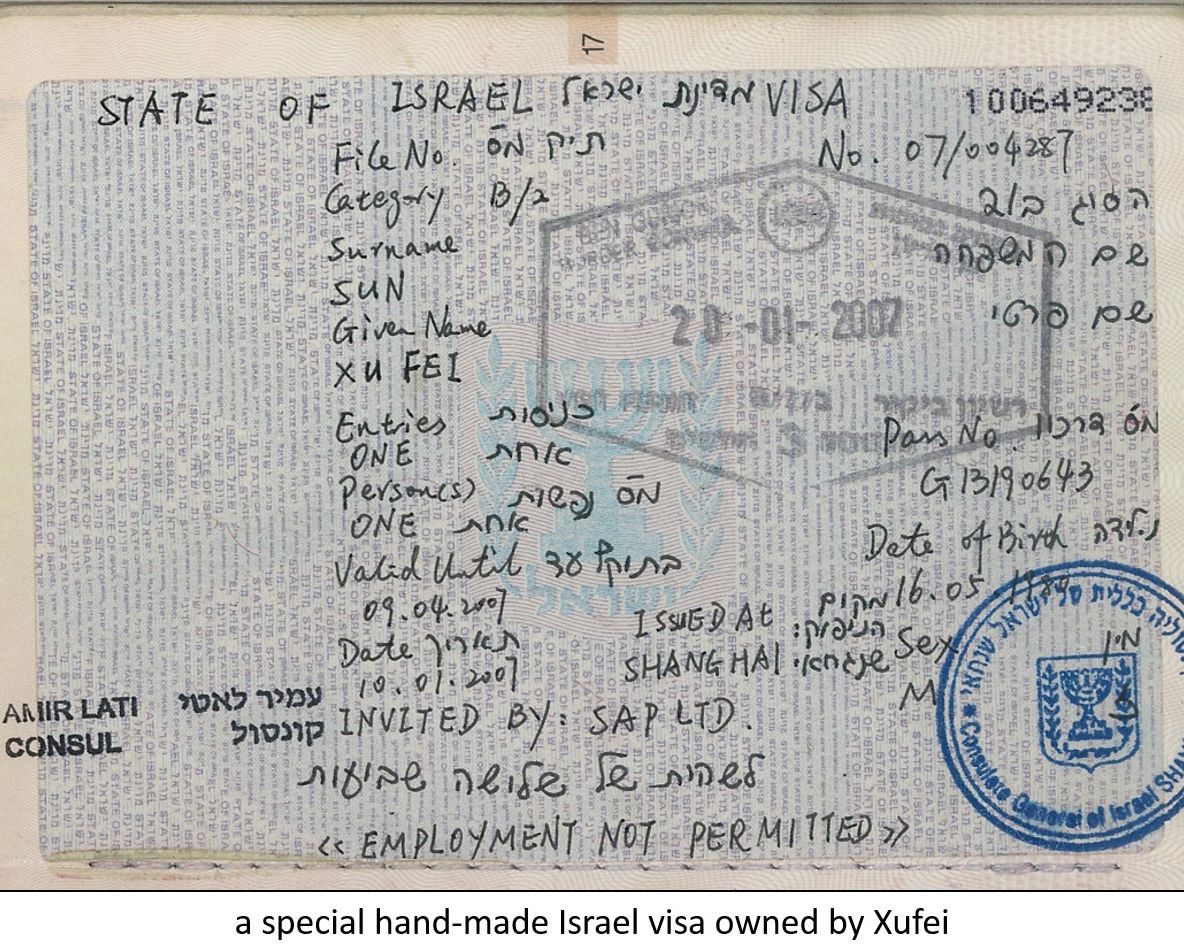 After overcoming numerous challenges, version 8.8 was successfully released to the market in 2009. It was an important milestone and a turning point in SAP Business One's history. The product reached a new level of maturity, product market fit and quality with significantly reduced customer service requests and maintenance cost. The unified and renovated code base laid down a solid foundation for fast-paced innovations and sustainable profitable growth for SAP and its Eco-system around the world for the next many years.
In the next chapter we will cover period after 2011 and the product innovation of SAP Business One.
To read the previous chapters please click – Chapter 1 , Chapter 2, Chapter 3 , Chapter 4 , Chapter 5, Chapter 6, Chapter 7, Chapter 8, Chapter 9
---
If you have any questions about the topics discussed in this blog or general SAP Business One queries then