SAP launched SAP Business One Service Mobile App! With the SAP Business One service mobile app for iPhone and iPad, maintenance technicians who provide on-site services for customers can view and resolve the assigned service tickets easily and efficiently.
What the App Can Do
In the SAP B1 Service app, users can:
View and filter service tickets and synchronize them to their calendar
Resolve service tickets
Edit, close, share and print service tickets
Scan bar codes or QR codes to identify items as needed and update their information
Use Favorite Options to check in and out, call customers, take photos, and view service history of items
Take Quick Actions to manage sales orders that are linked to a service call to which your current service ticket belongs, add resolutions for service tickets, view service contracts for items, view attachments of service calls and add photos for service tickets to service calls
View Key Performance Indicators (KPIs)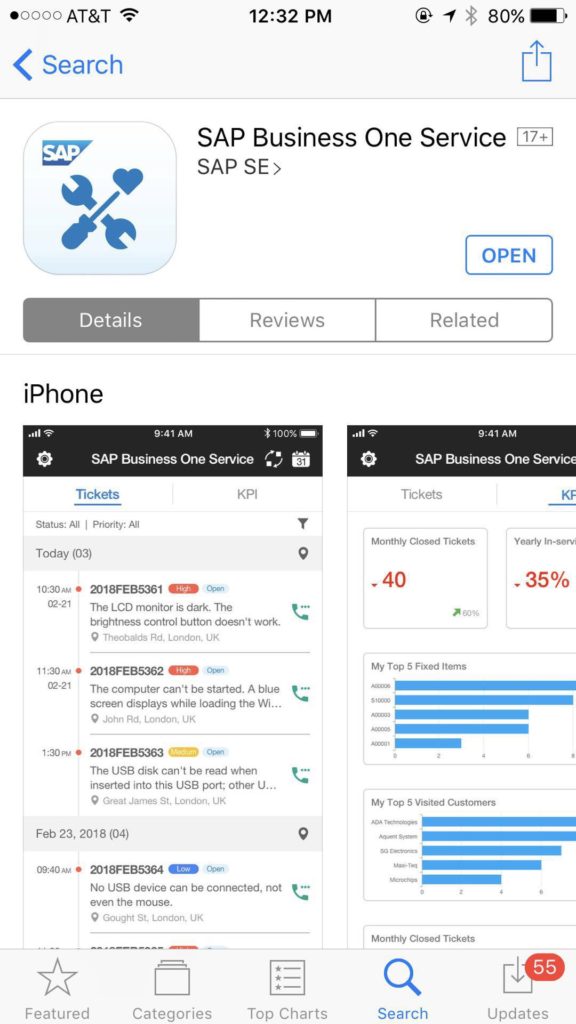 In addition, SAP Business One Service allows the user to work offline. If user has no Internet access while working, he or she can download the latest service ticket data in advance, resolve the downloaded service tickets offline and upload the edited service tickets when back online.
Home Page
On the home page, users can get an overview of their service tickets, call their customers, view customer locations on a map, filter their service tickets, check their service tickets in a monthly calendar, synchronize service tickets to their calendar, view KPIs, and configure their personal settings.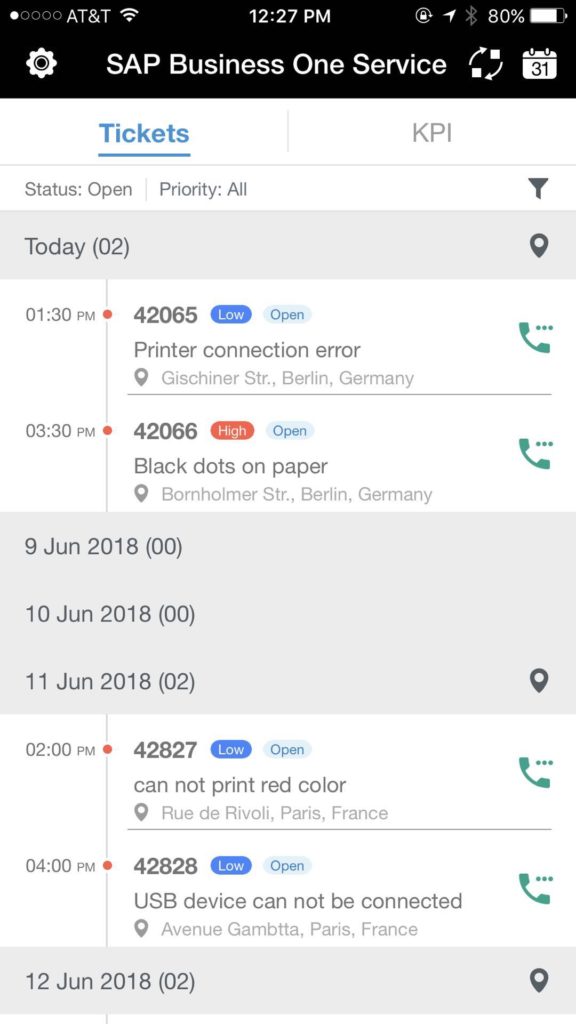 The filter icon allows user to filter the service tickets by status and/or priority.
The phone icon is available when the valid phone number of the customer is provided. It provides the choice to call the customer and view customer locations on a map.
The calendar icon offers the month view, a date with a dot beneath that indicates that the user has at least one open service ticket that starts from, or extends over, or ends on the day.
The sync icon is next to the calendar icon which synchronizes service tickets from SAP Business One Service to the Calendar app that comes with the device.
KPI Screen
The KPI (Key Performance Indicator) screen displays user's performance data on a dashboard.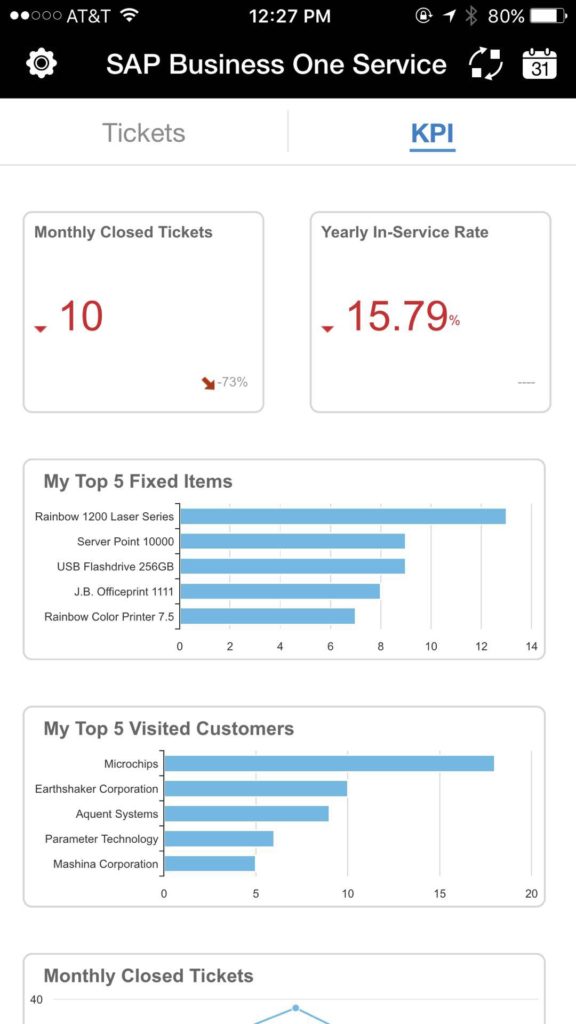 Monthly Closed Tickets
The number of service tickets that user has closed this month.
Tickets
User can drill down to view more data by month, quarter or year in a line chart.
The data is sourced from the end time of the closed service tickets. If the end time of a service ticket is null, the service ticket will not be included.
Yearly In-Service Rate My Top 5 Fixed Items
The percentage of service tickets with valid service contracts over the last 12 months.
My Top 5 Fixed Items
The top five items that user has fixed.
Drill down to view more details in a bar chart.
The data is sourced from user's closed service tickets.
My Top 5 Visited Customers
The top five customers user has visited.
Drill down to view more details in a bar chart.
The data is sourced from user's closed service tickets.
Configuring Settings
Choose Setting icon to configure the user's personal settings.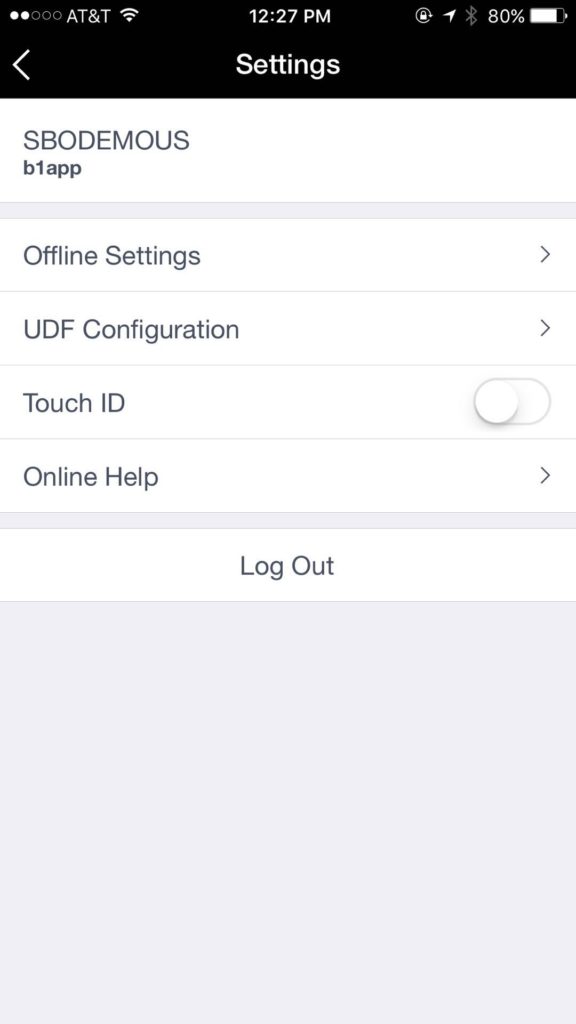 Offline Settings
Enables user to download service ticket data and manage service tickets edited offline.
UDF Configuration
Enables user to display and hide user-defined fields (UDFs).
Touch ID/Face ID
Enables user to use Touch ID or Face ID to log in.
Online Help
The availability of the login methods depends on the mobile device.
Log out
Provides online help on the SAP Business One Service mobile app. Enables user to log out of the mobile app.
If you are interested in more details about SAP Business One mobile app, download it from APP Store and try it yourself for free!
Please Note: To use SAP Business One Service with your own company data, you need SAP Business One 9.3 PL04 or higher, version for SAP HANA as the back-end system, but you can always test the app by demo login.